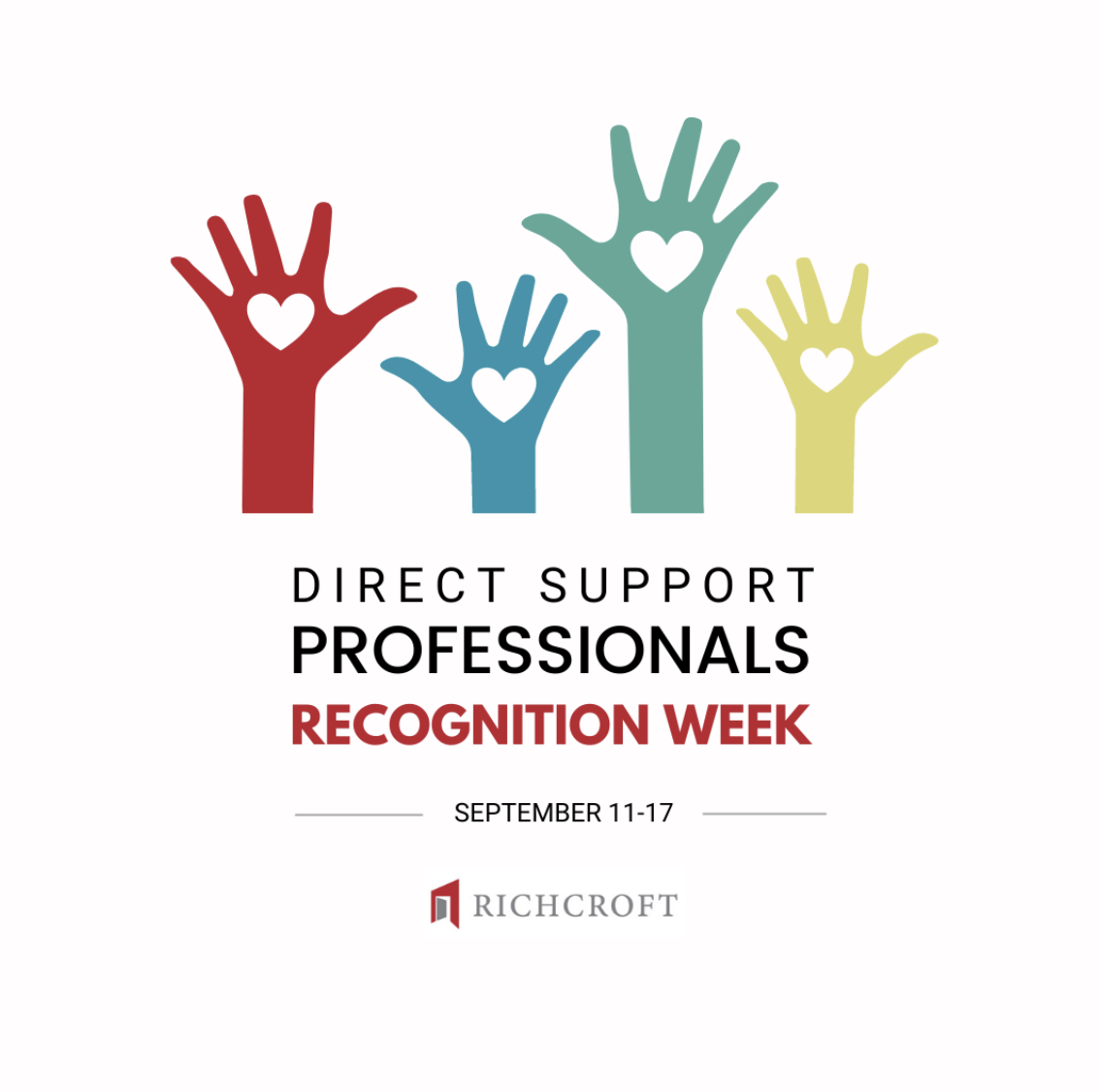 Celebrating National DSP Week 2022
The week of September 12 is DSP Recognition Week — and at Richcroft, we can't sing the praises of our DSPs enough! They work tirelessly to ensure each of our supported individuals receives the care and accommodations they need and that the culture of Richcroft is sustained throughout all our programs and activities. In short, our DSPs make us who we are. 
We know that for many of our DSPs, a big part of why they take the job is because of their compassion for others. However, what makes them stay is the community we have built here. Recognizing the contributions our DSPs make to our organization is something we aim to do all year round. To that end, here a few of the things we have done recently to enhance the Richcroft experience for our DSPs (and other employees):
Increased our hourly rate by 35% over the past two years for DSPs

Regularly elevate from within, because we believe in our staff

Honoring Juneteenth as a paid day off

Introduced Richcroft Wallet, allowing our team to get paid when they want

Kicked off our inaugural Years of Service awards, a tradition we hope to keep going forward!
Over the coming week, we'll be highlighting our team members on our social media channels, including those who have been part of the Richcroft family for more than 10, 15, and 20 years. The longevity of our staff is a deep source of pride here at Richcroft and we would like to thank, honor, and recognize those who have dedicated their lives to the service of our supported individuals. 
In the same spirit of honoring and recognizing those in our community who truly exemplify the Richcroft culture, we want to take a moment to recognize Victor Godfrey – Program Manager, Baltimore County. As a father to a child requiring some special considerations, Victor has compassion, patience and many of the qualities that make a good DSP. These qualities are also the things that naturally drew him to this field. After interviewing for a position in the Residential Program at Richcroft, Victor shared, "It was the welcoming nature and the fact that I met directly with the Residential Director and the individuals I was going to be supporting that made me feel attracted to the organization. I immediately felt connected." 
Victor's journey with Richcroft has been impressive as well! He started as a DSP, was promoted to a residential supervisor, and recently was promoted again into his current role as program manager. While Victor was initially hesitant to take on so much responsibility, conscientious of his family obligations to his son, he was assured he would have the flexibility he needed to be there for his family, as well as our supported individuals and staff. It's a philosophy we carry forward for all of our staff! 
Victor goes above and beyond, and has done so since he started with us as a DSP. And he's just one of many examples of truly wonderful staff members who have been promoted from within and stayed on to help make us who we are. We are so grateful for our legion of compassionate, creative, and dedicated DSPs who give 110% each day to helping to enrich the lives of those we serve. It's a great time to be at Richcroft, and this is just the beginning. Thank you to all our amazing DSPs for supporting our folks and helping them live their best lives!