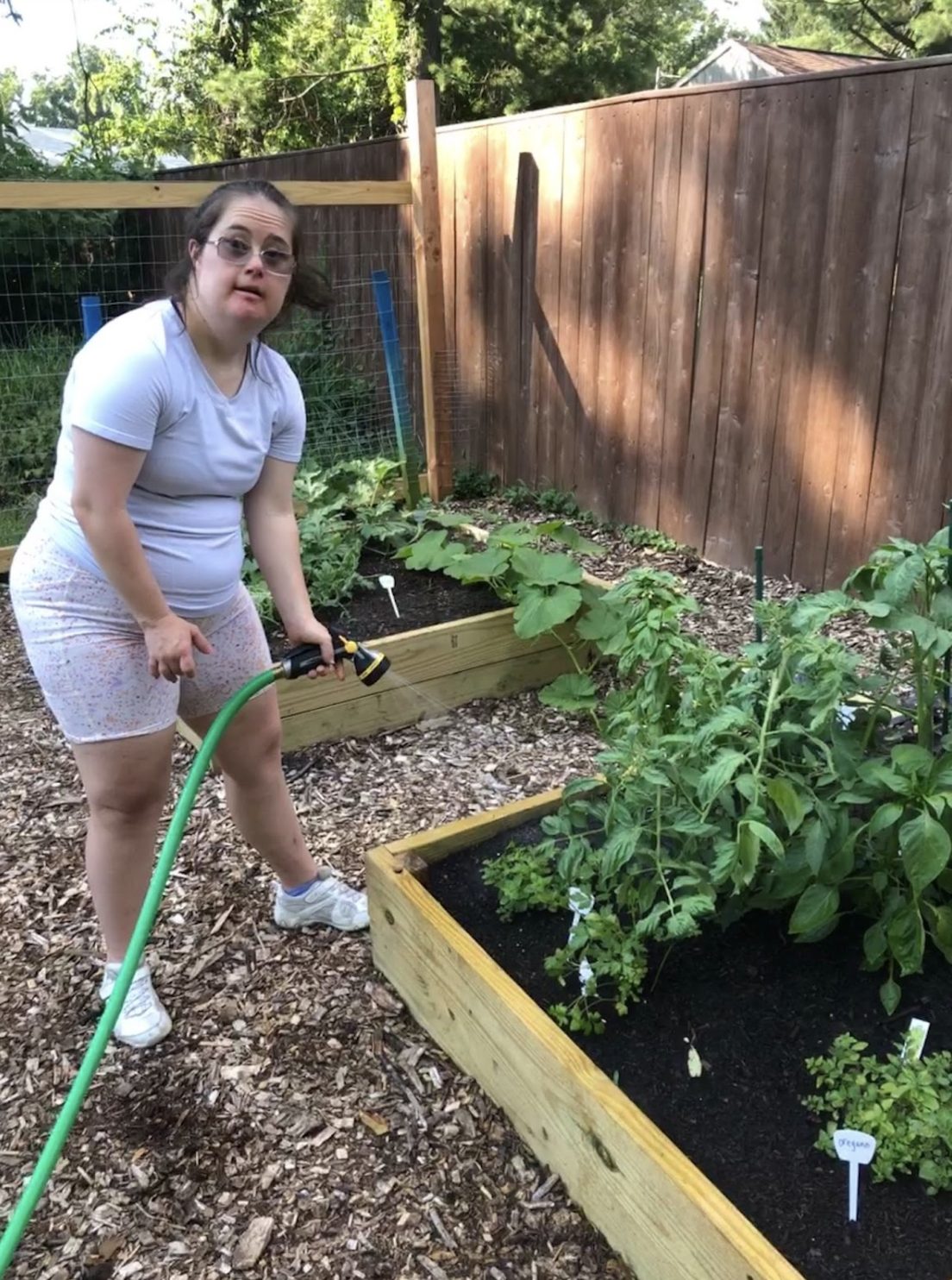 New Garden Space is Food for the Soul
Growing one's own food can be a deliciously rewarding experience, in more ways than one. So when the opportunity arose to partner with the Community Ecology Institute (CEI) on their Nourishing Gardens program, we were ready to dig in and get our hands dirty!
Last month, residents Megan, Michaela, and Danielle, were joined by volunteers from CEI, to install a large vegetable garden in the backyard of their Columbia residence. The Nourishing Gardens Program of CEI operates with the goal of transforming the lawns of homes, businesses, and schools into vegetable and pollinator gardens that have the ability to nourish people, our community, and friendly pollinators that keep our ecosystem healthy and functioning. With just a small contribution from Richcroft, the garden has been created with the help of volunteers, in-kind donations from local vendors, the Kemp Family, and fundraising by CEI. We are happy to report that the garden, as well as its enthusiastic caretakers, are flourishing!
According to Cheryl Kemp, the mother of one of our residents and the person who imagined planned, and ultimately brought this garden to life, the health benefits of gardening are endless. Mrs. Kemp was concerned with the weight gain her daughter experienced during COVID and wanted to find ways to encourage healthier food choices. That's when the idea of creating a vegetable garden was born. Megan and her mother had spent years gardening together, and when she learned about the Nourishing Gardens program at CEI it seemed like a perfect opportunity. When she presented it to Megan, her roommates, and their staff, everyone was very excited about the possibility of growing their own food and all the other benefits of backyard gardening.
Aside from the obvious benefit of eating healthy, gardening invites one to get outside and enjoy the fresh air, warm sunshine, and beauty of nature. It also provides the opportunity to socialize and connect with other gardeners. And according to Mrs. Kemp, gardening is a great form of exercise! From bending, pulling, digging, and weeding, gardening is sure to get your blood pumping and help you work up a sweat! It also promotes curiosity, cognitive skills, a sense of responsibility, and personal satisfaction in watching the things you've nurtured grow and thrive. Gardening is like holistic treatment for the mind, body, and soul!
To ensure a bountiful harvest, Richcroft installed a fence around the garden to help keep out bunnies, deer, and other hungry creatures. CEI has thoughtfully donated a grow bag for the patio, which contains lettuce, tomatoes, and two kinds of basil, so that all residents, even those with mobility limitations, can have a part in caring for and harvesting food from the garden. In addition, CEI has donated all the juvenile plants including green beans, strawberries, cucumbers, tomatoes, sweet peppers, lettuce, carrots, watermelon, and pumpkins. CEI has also offered to send a chef out when the harvest is coming in to teach the residents and staff how to cook and freeze the food that they've grown. The group has already started using herbs to enhance their meals and is looking forward to the first of the tomatoes, soon to be ready to pick. Perhaps even more exciting than all of this are the feelings of empowerment that have been experienced with the addition of this garden.
At Richcroft, our mission is to create opportunities and cultivate relationships that enable every person to live their best life. We feel very grateful to have so many engaged family members, direct support professionals, and community partners that help us carry out our mission daily. We are so fortunate to work with family members like Mrs. Kemp, who saw an opportunity and took the initiative to positively impact not just her daughter's life, but also those in her shared group home! 
Now, our residents not only have all the health benefits of the garden, they are also learning a fantastic new life skill that can be applied to the workforce or as a hobby. As Megan and her roommates look forward to gathering their first yield of sweet strawberries, we at Richcroft look forward to a long fruitful partnership between our friends at CEI, the Kemp Family, and this wonderful team of dedicated community volunteers and staff. Follow us on Facebook for updates on this and other fun happenings: https://www.facebook.com/RichcroftMaryland/!