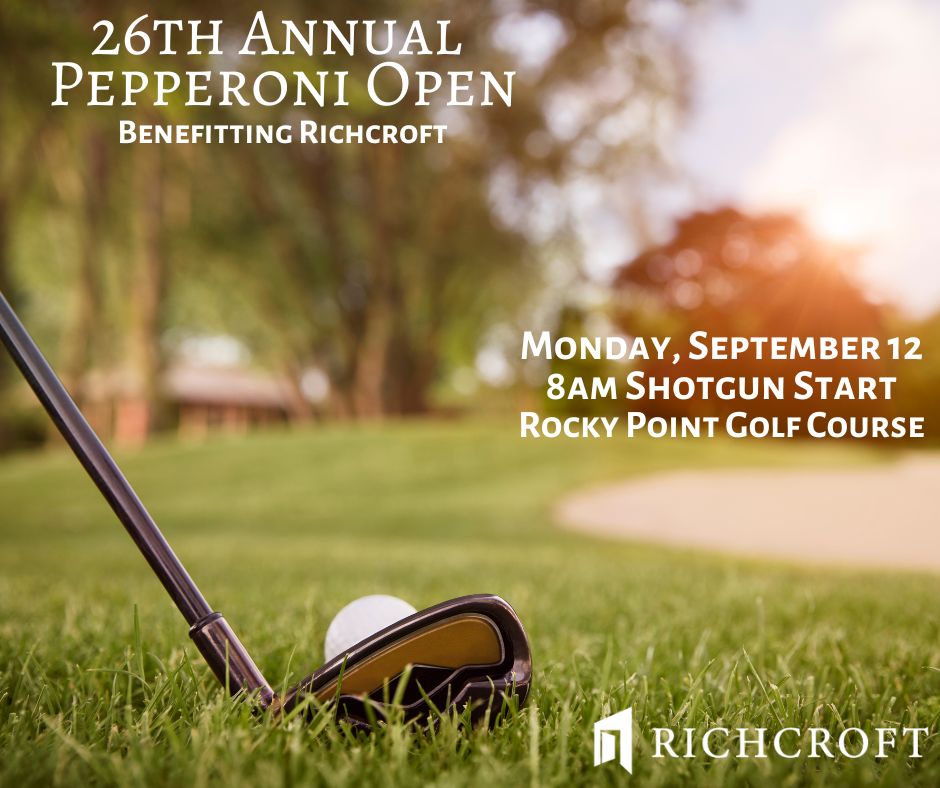 Squire's 26th Annual Golf Tournament to Benefit Richcroft
Richcroft is delighted to announce that we've been chosen as one of two grateful beneficiaries of Squire's Italian Restaurant's 26th annual Pie in the Sky Pepperoni Open! On Monday, September 12, Squire's will welcome golfers to Rocky Point Golf Course in Essex, Maryland. If you haven't been to Rocky Point before, you're in for a treat! It is the only waterfront golf course on the Western Shore of the Chesapeake Bay! A pristine coastal course that doesn't require traveling to the Eastern Shore, Rocky Point is perfect for those who love being on the water! 
Golfers can register as an individual or foursome. There will be several contests including closest to the pin, longest drive, and Captain's Choice. If you're new to tournaments, Captain's Choice is a fun scramble where players decide who has the most advantageous spot after each drive and hit from that location. Play continues in this vein until all players have sunk the ball in the hole. 
After the golf portion of the tournament is done, we'll all meet at the 19th hole — in this case, back to Squire's for a buffet lunch and an open bar. Prizes will be awarded, and there will be surprises along the way. By the way, did we mention that donuts, orange juice, and coffee will be available at the course before the tournament kicks off? The Pie in the Sky golf tournament makes for an easy, fun way to spend a Monday and the perfect way to start your week. 
Proceeds from the golf tournament will be split between Richcroft and Official Outreach, Inc., an organization that focuses on bringing children together with nature. Our fundraising efforts are focused on the newly expanded Community Development Services at Richcroft. As we work to raise funds and support for this life-enhancing new program, your support is greatly appreciated, and goes directly to help support the cost of vehicles and to offset activity expenses. 
We're so honored Squire's has chosen us and is giving us an opportunity to bring members of our community together for such a fun outing! 
Sponsorship opportunities start at $100 and include a branded tee sign, and go all the way up to $1,000 as a tournament sponsor, which includes significant recognition at the event, on social media, and colored tee signs. Individuals can play for $125/person, and each foursome can register collectively for $500. We are also selling 50/50 raffle tickets — $5 each or 5 for $20!
If you'd like more information on the event, sponsorship opportunities, or to purchase raffle tickets, please reach out to Lisa Knauff, Richcroft's Director of Development at 410-316-9556 or email LisaK@Richcroft.org. Register by August 26, and we can't wait to see you on the green!