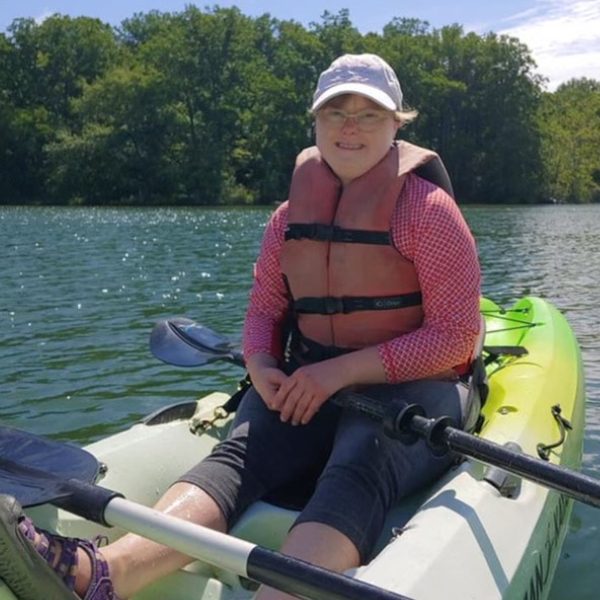 New Meaningful Day Services Available at Richcroft
In May of 2020, we met Susie, a very capable, cheerful, and bright young woman who was interested in receiving Richcroft services. Prior to the pandemic, Susie was very active in her community — she volunteered several times a week, was employed part-time at a daycare center, and was working on a book of poetry she planned to have published. In the Spring of 2020, when the pandemic shutdowns caused many of Susie's day-to-day activities to cease, her family reached out to Richcroft for support.  
Over the past two years, the COVID-19 pandemic has caused a dramatic change in the number and types of programs and supports available for people with disabilities, both around the world and right here in our community. When we were confronted with COVID-19, none of us could have imagined that we would still be dealing with the crisis more than two years later, however over the past two years, Richcroft has worked to remain agile and responsive to the many rapidly evolving situations and needs of our community. From working with fellow disability service providers to ensure a continuum of care, to coordinating with DDA and other funding providers to assess and meet the growing needs of those we serve, we have made great strides to reduce the impact of the COVID-19 pandemic on our friends with disabilities, their families, and the people that care for them. 
In response to the needs created by the pandemic, and in efforts to safely and effectively re-enter the community setting, this spring, Richcroft has begun expanding our service offerings to include Community Development Services (CDS). CDS is a program that is designed to assist our supported individuals in becoming more integrated, independent, and engaged in the community through meaningful and purposeful activities. CDS is a program separate and distinct from residential services and personal supports. This new service will be a way for individuals to build their social networks, participate in local community events, volunteer, learn to self-advocate, and participate in a virtually unlimited number of community-based activities. CDS is a small group day service that allows for groups of up to four individuals, with similar likes and interests, to explore their community while developing skills and relationships.
During the pandemic, Susie was served virtually in Richcroft's Personal Supports program. Her DSP Helen helped her work on many of the goals she had set for herself virtually, including her interest in working to improve her writing skills. Over the pandemic, Helen and Susie read together, each of the seven books making up "The Chronicles of Narnia." Every time they met they would travel together to a fictional world of magic, mythical beasts and talking animals. Before each session they would start off with a bit of yoga stretching and a prayer, and go over the previous chapter's events; after they would discuss the characters, how the book made them feel, and what they thought might happen next. 
As Susie and Helen finish the final book in the series, "The Last Battle," Susie and her family are discussing the possibility of re-engaging in more community-based programming, like Richcroft's newly launched Community Development Services. In CDS, staff could help Susie meet with a group of two or three other individuals to form a book club, help find books they might like to read together, and work on discovering other shared interests.
Even if Susie decides to join the CDS Program at Richcroft, she could still work with her personal supports counselor Helen on her many goals. In CDS, she would be working with others with similar likes, interests, and goals, so that together, they could build a strong social network and a community support system. From hanging out in the senior center to volunteering at the local animal shelter, we are and proud to partner with many community-based organizations to help individuals build their friendships and find meaningful activities to fill their days. 
The benefits of CDS are as endless as the activities our groups can participate in and we are so excited for the opportunity to once again get out and about in the community! The lives of our supported individuals are enriched by your contributions, so if you know of a place you think we might like to visit or a cause where we might like to volunteer, please reach out to us! If you would like to help support our new CDS program with a donation, please visit https://www.richcroft.org/get-involved/donate/ or reach out to our Director of Development at LisaK@Richcroft.org. Your support is so appreciated!